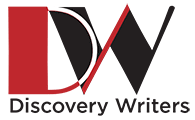 Prose
Prose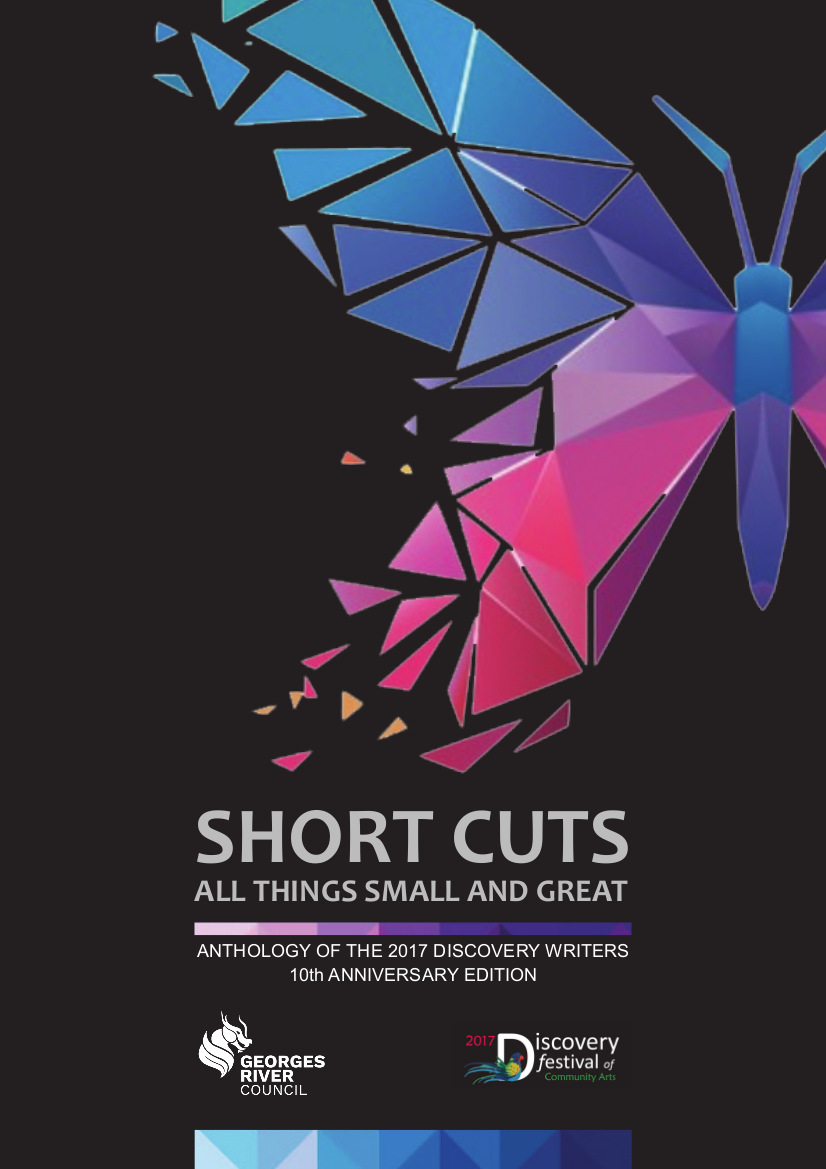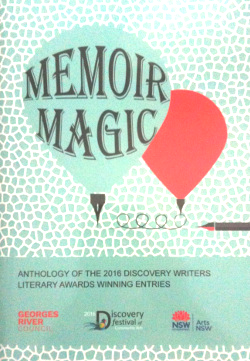 Prose has been employed in English from the early 1300's. It is written language without a discernible metrical structure. Prose includes fictional stories, like fantasy or romance, through to memoir. Our members enjoy all forms of creative writing as those below attest.
Anthologies
Discovery Writers' anthologies feature winning texts from competitions and submissions. They reveal a wide variety of writing styles and themes. Stories range from humorous to poignant, from local to international. Both poetry and prose are included. Memoir and short story. A special section on epigrams and pithy sayings conclude the latest collections.

To obtain your printed copy please query by email:
click to send.
Latest workshop prose
Click on the titles below to open the pdf:
1st Anniversary by Diane Reddy
Childhood Memories by Enza Russo
I've Got Your Parents Here
Monica O'Brien
Cathy's phone rang, disturbing her occasional peaceful break from her busy workload.

'Hello,' said a voice from the other end of the line, 'This is a bank teller from the Commonwealth Bank. I have your parents here and they are sure that they've entered the correct numbers on their Internet Banking payment, but their request has been denied and their money returned to their account. Would you be able to give me the details and correct numbers of the builder's account?'

'Sure, I'll be able to do that.' Cathy gave the details to the teller.

'Yes, they've entered the correct numbers. I'll have to check with the client's bank. Thanks for your help, Cathy.'

Now a slightly flustered bank teller finds that although my husband has entered the correct numbers he's also added the BSB numbers and a few other numbers as well. Naturally a computer being what it is, a machine, could not interpret this as being correct. The bank teller is able to explain the dilemma and the problem is solved. My husband is so relieved that he always falls in love with the teller who helps him out with internet banking. He walks away a happy man.

Another day and another phone call to a son. This time it was a tax agent ringing. 'I have your parents here Michael, and it seems that they have made an error with their taxation returns. This is not all bad news as they may have a refund due to them. Do you think that you can chase up what has happened?' 'Sure I'll do that for you'.
'Thanks Michael. I thought that as you work at the Tax Department, you'd be able to do that'.

A year has gone by and Michael got yet another phone call. This time it's the Highway Patrol Officer.

'Is that you Michael? I have your parents here. They've been caught driving an unregistered vehicle. Unfortunately they are in a 'tow-away' area on week days and they cannot drive the car until it is registered. They have explained that they tried to register the car but the Department of Roads and Maritime Affairs was closed due to the Christmas break, and even though they tried to use online payment as well as the phone nothing seemed to work for them.

They get confused with modern electronic devices. Would you be able to rescue them? Good fellow. I'm not going to hit them with a six hundred dollar fine today due to your Dad's good driving record. Thanks mate.'

Whew! Michael wipes his brow. 'I can't wait to tell Cathy about this latest rescue.'

'Oh well we suppose that these things could still happen, but they're still in their own home and have their independence, so as long as we are there to get them out of hot water, what does it really matter?' The kids have agreed on this.

Back to Bronte
Margaret Mahony
It's the early seventies and a young mother and her son play on the beach; it's a popular spot. Her friends are around her and she is very pregnant with her second child. The rock pool to her right is too dangerous for a two year old but the bathers are all enjoying cooling down in the 30 degree heat.

Time for lunch and the plastic baby cup contains ribena slightly warm, as the ice in the polystyrene esky has almost melted. The vegemite sandwich limp but the baby doesn't care. Mum does with the leftovers; the temperature isn't agreeing with her condition. She longs for the time when she's negotiated the hill climb home to her rented flat past the vacant shop fronts, not even a fish and chip shop to tempt the holiday crowd.

Nearly forty years has passed and this young mother, now a grandmother two years off the pension, sits with her first husband outside the same shops, eating breakfast in a bright trendy café, al fresco, cosmopolitan and celebrity-friendly.

The patrons sit with their cavoodles and poodles; yummy mummies and their designer strollers feast on eggs benedict and French toast while their offspring enjoy 'only organic' muesli and cold drinks from insulated bottles.

The sunshine is the same, the sea is the same but life is faster – everyone carries mobile phones, wears designer clothes and eats more interesting food but when the baby cries and the coffee gets spilt it brings them down to earth.

Was there the Bronte to Bondi walk in 1972? Maybe but I can't remember. Today Bronte Beach hosts 'Sculptures by the Sea'. Sounds inviting!

<!end of Marg's story>
Another story
by a Writer
Still at the editing stage. Stay tuned.