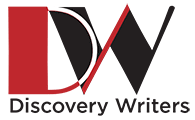 Poetry
Poetry
Poetry is one of the arts capturing emotion in words. It has a discernible rhythm, anything from a strict four-beat line to the rhythms of conversation. Writing poetry is a complex skill of choosing the best words in the best sequence.


A Backpoem
The Discovery Writers have met, since 2007, in the Miles Franklin room at Hurstville Library. A statue of Miles Franklin stands one block away. Originally we sat around curiously-shaped tables and classy chairs. Both tables and chairs have disappeared, but the chairs still have a life in 'red chair in the library' (see below).
The Miles Franklin Statue at Hurstville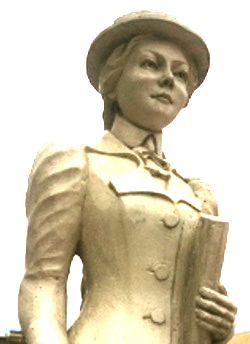 Selected Poems
From calls for submissions
Our theme last year was Short Cuts. This refers, not to those taken on the way to school or to cuts of meat, but to those texts, trimmed of excess fat and other indulgences, texts you can enjoy with no after-guilt.

Short poems are popular today. But haiku, tanka and odes etc. still take time to write. The final poem may have gone through many revisions, even a complete overhaul! Our call for submissions reflects the Short Cuts theme, and the poems below show the diversity of short forms:
red chair in the library
by omargo
1. personality
you wear the architecture of elegance
confident, smart a, slim sort of loud
a winning bluff to your bottom line
you will make fashion history, spied
by a fabric designer who's wrapt in blood
your provocative colour sample
becomes the new red, people
will queue to be photographed on you
and when you blush about this
only I will know

2. reflection
you're a curvaceous mirror
to our body language
winking us to come
sit down near your legs
feel the worth of your merchandise
freeing us, weightless
but if you were a woman
wearing that look, I'd uncover
your unconscious and say
watch it, the predators are circling

3. enquiry
as a chair woman
our meeting is perfect match
you zing where I zang
you win many stars for comfort
I could clap your inclusiveness
whatever my temper, you accept me
keep my feet on the ground
while my head's gone fiction
but in summer, will you read
my temperature and sit up in blue

4. recognition
my seat of learning
oh little red writing chair
what bright smiles you give
all the better to hearten you, my dear
oh little red writing chair
what sleek lines you have
all the better to help you write, my dear
oh little red writing chair
what strong support you give
all the better to keep you here, my dear


---
Pantoum
Annie Organ
As I paint my first piece
I cast my vision onto her fresh face
The sparkle in her eyes
Decided my brush strokes

I cast my vision onto her fresh face
She stared into my soul
Decided my brush strokes
Straight onto the canvas

She stared into my soul
The sparkle in her eyes
Straight onto the canvas
As I paint my first piece
Two One-Breath poems
Peter Grasshopper

flying under the last eggplant
a blue-banded bee turns home,
to lay larvae and die.


through rain today,
my new flute squeaks and roars
- Orpheus in tears.

Because of You
Carol Reynolds
Should I choose a "you" that was nice
or one who gave me words of advice
words which I might have taken to heart
or prevented me from making a start
A "you" that I have loved and lost
or one whose lavish tastes have cost
I could include a humorous view
and recount Little Bo Peep's "ewe"
There's a "yew" that I have never seen
although I know it's coloured green
There's another "you" you hear today
erroneous but so many say
"I love yous all"

Written to the theme 'Because of You' for November 2011 issue of FreeXpresSion magazine
Secrets of the Moon
Monica O'Brien
Tell me moon what do you see as you travel the globe on your trajectory?
Do you illuminate the valleys, and mountains to check that all is well?
Do you illuminate the seas, rivers and lakes and sound the death knell?
Do you see mountains denuded of trees and flotsam and jetsam on the seas?

Tell me moon if you're a passive observer or are you inclined to be a conserver?
Do you wish you had a voice to influence law makers and many others?
Do you know in your heart and believe that all men are brothers?
Do you see enormous wealth alongside numbers of poor sufferers?

Tell me moon if your job is to enhance lovers and spur on romance?
Or is it a foible invented by poets who see you as a lantern by which to dance?
It seems to me that you wear a frown; are even afraid at times to look down,
On a world that has forgotten to nurture and care for the sick and forlorn.

Tell me moon if your job is too much to endure or do you hope later on for a cure?
Do you secretly record what you see so as you can influence a great deity?
To bring about change in the hearts of men, who can live as one true brethren.
I have always seen beauty in your nightly walks, that can spur men's minds beyond just talk.

How to Fell a Giant
Asuncion Pritchett
You do it limb by limb First
climb the giant's trunk hard-hatted
belted harnessed and booted
Then armed with a chainsaw proceed
to amputate Tackle each
spreading leafy limb in turn
Up there you're the star of the show
All your orange vested mates
and the neighbours watching below
as the chainsaw growls and tears its way
through living wood the sawdust flying
in a rain of red Dismembered
it's easy to divide and rule
Each section hits the ground with a thud
till only the stump remains
and space and silence reign again.