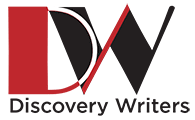 Poetry
Poetry
Poetry is one of the arts capturing emotion in words. It has a discernible rhythm, anything from a strict four-beat line to the rhythms of conversation. Writing poetry is a complex skill of choosing the best words in the best sequence.


A Backpoem
The Discovery Writers have met, since 2007, in the Miles Franklin room at Hurstville Library. A statue of Miles Franklin stands one block away. Originally we sat around curiously-shaped tables and classy chairs. Both tables and chairs have disappeared, but the chairs still have a life in 'red chair in the library' (see below).
The Miles Franklin Statue at Hurstville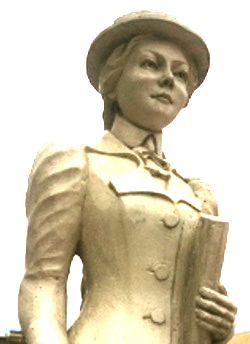 Selected Poems
For contemplation
A recent theme to inspire writing has been Journey.
Short poems have been written in response to the many sub-themes which presented themselves. We have written through journeys of the heart, wilderness journeys and journeys of enlightenment. Journeys into poetry have been a highlight of many nights. Poems have been written in response to holidays and travel for work. To journey is to discover.

Here are some Journey poems - they reflect the diversity of short forms:
red chair in the library
by omargo
1. personality
you wear the architecture of elegance
confident, smart a, slim sort of loud
a winning bluff to your bottom line
you will make fashion history, spied
by a fabric designer who's wrapt in blood
your provocative colour sample
becomes the new red, people
will queue to be photographed on you
and when you blush about this
only I will know

2. reflection
you're a curvaceous mirror
to our body language
winking us to come
sit down near your legs
feel the worth of your merchandise
freeing us, weightless
but if you were a woman
wearing that look, I'd uncover
your unconscious and say
watch it, the predators are circling

3. enquiry
as a chair woman
our meeting is perfect match
you zing where I zang
you win many stars for comfort
I could clap your inclusiveness
whatever my temper, you accept me
keep my feet on the ground
while my head's gone fiction
but in summer, will you read
my temperature and sit up in blue

4. recognition
my seat of learning
oh little red writing chair
what bright smiles you give
all the better to hearten you, my dear
oh little red writing chair
what sleek lines you have
all the better to help you write, my dear
oh little red writing chair
what strong support you give
all the better to keep you here, my dear

---
Sayings
Anon
Few journeys begin without baggage.

Memoir thaws a frozen past.

My idea of travel is
going somewhere less cold.


Travel
can take you somewhere
you don't want to go.

In covid times
you must plan your travel
to a neighbour.
Two Haiku
Anon
today's sky
a blue as warm
as inspiration

she sits patiently
stirring a pot of dye -
country dreaming

Tanka
Margaret Mahony

early spring
first waratah in the bowl
warming sun
through an open door
I imagine your smile

I sit
amidst headstones
feeling her love
wanting her back
listening for her voice
Haiku
Margaret Mahony

a fat crow
feasts on worms

granddaughter and I
tik tok dance
on her iphone

beach walk
two seagulls
flirt with their feathers

sunlit wood
under a canopy of trees
bluebells
Character of a Castle
Alison Miller
She stands tall
pride in her hands
passion in her head
Oatley behind her.

Trees, water, birdlife
admire the sunlit vista.
Grazing at each corner is the
grey- green gum expanse.

Childhood memories of
a huge yellow steam roller
gravel walks and
rock scrambles.

Magical castle secrets
remnants of her past ...
Depression-built for
Susso, now her playground
Homeland
Margaret Mahony

after a long flight
my feet touch Irish soil
this was a realised dream
a trip to my homeland

I hug my childhood friend
the years fall away
our words tumble over each other
we laugh and cry at our separate lives

at the family reunion
my cousins talk the familiar way
I see my face
in my grandmother's photo

winding roads
now bypassed by freeways
where are the villages
it has to be progress

an Ulster fry with
soda bread and potato bread
a remembered feast
wrapped in the warmth of family

blackberry bush among bracken
on a country walk
sweet thoughts of granny's jam
bubbling on the stove

my grandparents grave
neglected, no one left to care
I honour their memory with a makeover
and lay flowers

The Cormorant
Asuncion Pritchett
Black as the inky waters of the bay
sleek and silent this practised fisher
works the waves floats briefly dives and disappears
in the depths surfaces in the distance
again and again barely visible
among the swimmers the kite surfers
the children and dogs the jet skiers
all making waves at the beach

It's not sport or play This is its living
Born with a wetsuit of feathers webbed feet
for flippers and hooked bill at the ready
it's a diver par excellence its skills
honed by thousands of years fishing on its own
and working for fishermen on boats leashed
its throat constricted by a snare spitting
out its wages for humans

One day I saw it when the fishing was done
perched on a rock at sunset wings outspread
still as a statuette of bronze and burnished
gold Feathers aglow as sunlight glinted
on the water it stood free and untethered
nobody's slave basking in the sun and air
feet straddling earth and water


God's little fisher bird