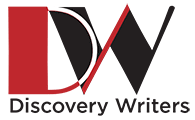 Discovery Writers


Who we are
Discovery Writers enjoy the written word, sharing insights, humour and drama through stories, memoirs and poems.
What we do
We meet on the first Tuesday of each month (not January) to read and discuss our current work. Each year we choose a writing theme and upskill our knowledge through workshops. Discovery Writers welcomes all who enjoy writing to come and share in our friendship afternoons.
Where and when we meet
Miles Franklin room, Hurstville Library, Dora St, Hurstville
12.30 - 3.00pm, first Tuesday of the month (except January)
Monthly workshops: April and May
April 3: From 1.00pm – The Story Environment



The traditional word for the physical background to a story is its setting. But we can also think of the 'environment' of a story to include the mental environment within which the characters operate.




Often the environment mirrors its inhabitants. A rural setting can make for rugged characters. A genteel setting, e.g. the drawing room, can suggest certain 'gentlemanly' stereotypes. A 'storm brewing' might foreshadow a stormy relationship developing. And these conventions can be overturned by writing a character with opposite traits to those the setting would suggest.




Today's workshop focusses on 'environment' in various scenarios. We will examine two short prose pieces for the way they describe and integrate environment into their writing. Our writing will relive some experiences with family or friends, where environment has played an important role.




May 1: From 1.00pm – Ekphrasis at the Museum



After meeting at the Miles Franklin for the normal monthly business meeting, we will take a short walk to the Hurstville Museum (MacMahon St, one block away) for a guided tour of the exhibition: 'Wild, wanton and unimagined'. Cost is $4 to include afternoon tea upon arrival. There will be time for reflection and writing on the sculptures (ekphrasis) after the tour.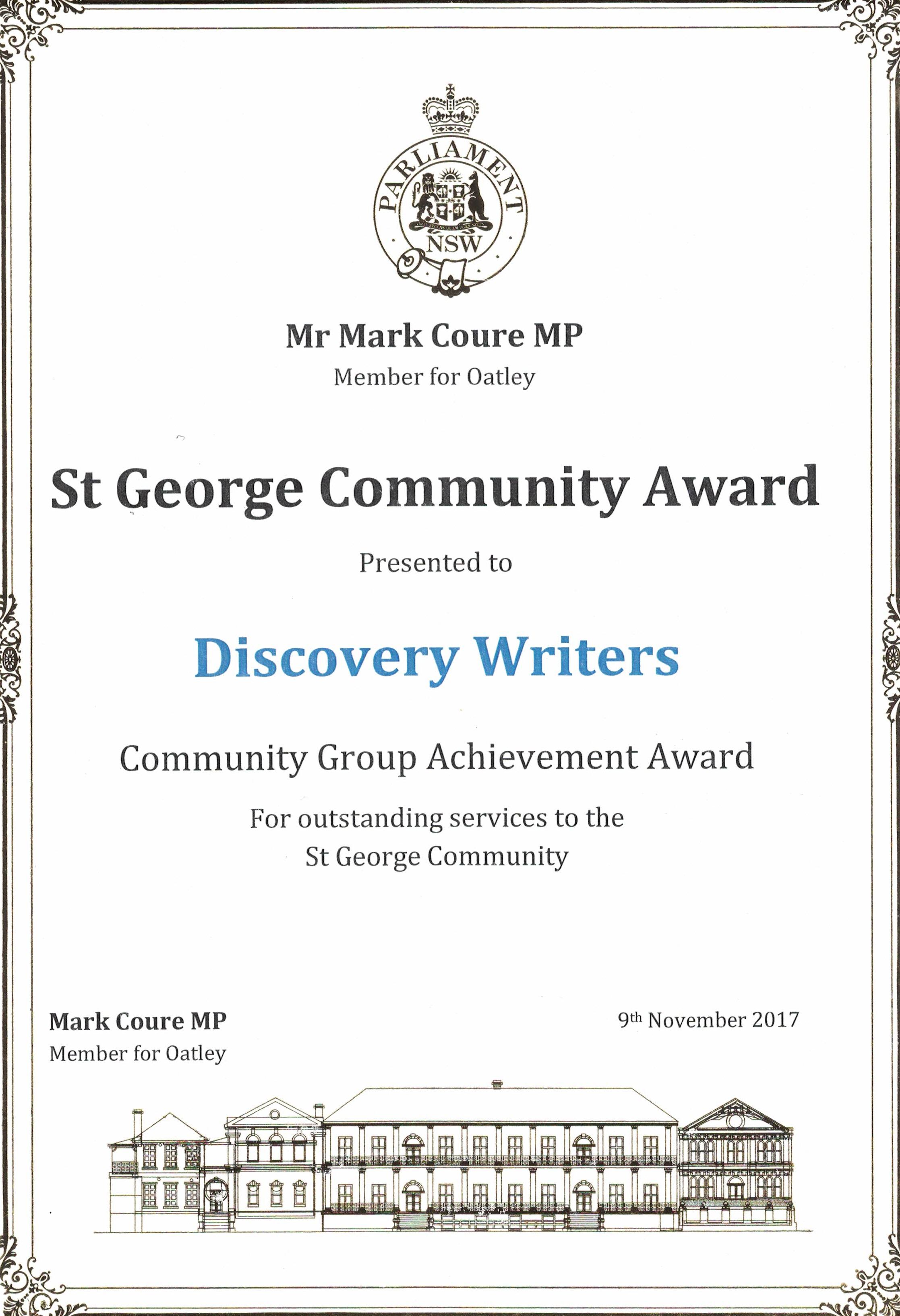 Community Group Award
Discovery Writers are the recipients of a Community Group Achievement Award - for outstanding services to the St George Community.
Presented by Mark Coure MP, the award of 9th November 2017, is a fitting finale to our 10th Anniversary Celebrations.
The award recognises the many members who give their support and work behind-the-scenes to help keep the art of writing alive in our community.
If you have always wanted to write, then 2018 is a great time to start. Come along and meet our outstanding writers.
Current projects
Radio interviews.
Personal projects e.g. memoir.
Any questions? Email us: click to send

Disclaimer
Copyright of the material on this site remains with the author of each text.
No part of this website may be copied, except with permission of the author.
Acknowledgement
Discovery Writers wish to express our appreciation for a grant under the current Georges River Venue Hire program.
Next meetings
Date: Tuesday, April 3rd, May 1st
Place: Hurstville Library
Time: 12.30 - 3.00pm
Contact
Facilitator
Margaret Ruckert
email: click to send
Useful Links
Leaflets and Forms
Discovery Writers: all about us
Anthologies
The 2017 Anthology: Short Cuts: All Things Small and Great.
The 2016 Anthology: Memoir Magic
For details please see our prose page.
Podcasts/Links